English IEP P.3 2nd Semester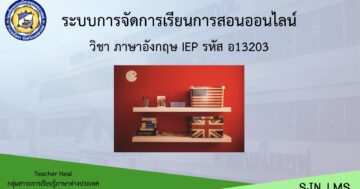 เกี่ยวกับคอร์ส
Students are able to act in compliance with orders and requests heard or read; pronounce
and spell words; read groups of words, sentences and simple chants in accordance with the
principles of reading; choose and specify the pictures or symbols corresponding to the meanings
of groups of words and sentences heard; answer the questions from listening to or reading
sentences, dialogues or simple tales; speak in an exchange with short and simple words in
interpersonal communication by following the models heard; use orders and simple requests by
following the models heard; express their own simple needs by following the models heard; speak
to ask for and give simple data about themselves and their friends by following the models heard;
tell their own feelings about various objects around them or various activities by following the
models heard; speak to give data about themselves and matters around them; categorize words
into groups according to the types of persons, animals and objects based on what they have
heard or read; speak and make accompanying gestures in accordance with social manners and
cultures of the native speakers; tell the names and vocabulary related to festivals, important days,
celebrations and lifestyles of the native speakers; pronounce the words related to the color of
national flags, national dishes and drinks of ASEAN members; participate inlanguage and cultural
activities appropriate to their age levels; specify the alphabet and sounds of the alphabet of
foreign languages and Thai language; tell the terms related to other learning area; listen and
speak simple situations in the classroom; use foreign language to collect relevant terms around
them.
These can be done by using the process of listening, watching, speaking, reading and
writing; performing, identifying, selecting, telling and collecting.
These can be done to contribute to the student's knowledge, understanding, and benefits
for the further education and daily life; students are keen on studying, determined, honest,
disciplined and public-spirited.
Show More
What Will You Learn?
At the end of the chapter, students will be able to:

1) Answer the questions from the reading passage of the theme "Festivals",

2) Describe the pictures they see and answer the questions about them correctly.

3) Pronounce the sound: leu/ in -ay and -ai- including words with these sounds correctly

and naturally.

4) Name things in the theme of "Festivals" and spell the words learned in the lesson

accurately.

5) Understand and answer the questions from the listened stories or dialogues of the

theme "Festivals".

6) Converse using the learned patterns in the everyday situations fluently and accurately.

7) Write words, phrases, or simple sentences that are necessary for the everyday lite

correctly.

8) Initiate the conversation about the theme with confidence.
About the instructor
Course Curriculum
Unit 6 : Festivals
Unit 6.1 : Listening is very easy
Unit 4 : Clothes
Unit 4.1 : Review Words Learned

Unit 4.2 : Physical Appearances

Unit 4.3 : Phonics and Sounds

Unit 4.4 : Revision
Student Ratings & Reviews
No Review Yet