IEP English P.6 1st Semester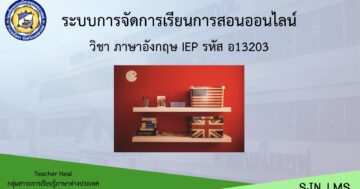 เกี่ยวกับคอร์ส
Students are able to read aloud sentences, texts and short poems in accordance with the principles of reading; tell similarities and differences between pronunciation of various kinds of sentences, use of punctuation marks and word order in accordance with structures of sentences in foreign languages and Thai language; choose and specify the sentences or short texts corresponding to the meanings of symbols or signs read; tell the main idea and answer questions from listening to and reading dialogues, simple tales and stories; speak and write to ask for and give data, express feelings, ask for help and agree and refuse to give help; speak and write to ask for and give data about themselves, their friends, families, matters around them and environment; speak and write about the activities and tourist attractions of ASEAN members, as well as give brief reasons with pictures, plans, charts and tables to show various data heard or read; express opinions about various matters around them; compare the differences and similarities between the festivals, celebrations and traditions of native speakers and those in Thailand; use words, tone of voice, and gestures in accordance to social manners and culture of native speakers; search for and collect the terms related to other learning areas from learning sources, and present them through speaking and writing; use foreign language for communication and to search for and collect various data from various situations in the classroom and in school; participate in language and cultural activities in accordance with their interests.
These can be done by using the process of listening, watching, speaking, reading and writing; performing, processing, expressing opinions, searching, collecting and attending the activities.
These can be done to contribute to the student's knowledge, understanding, and benefits for the further education and daily life; students are keen on studying, determined, honest, disciplined and public-spirited.
Show More
What Will You Learn?
At the end of the chapter, student will be able to:

1. Answers the questions from reading passages.

2. Pronounces the sounds that are in the topic correctly.

3. Spell the words correctly.

4. Indicates the conversation about the theme with confidence.
About the instructor
Course Curriculum
Unit1: Characters
Everyday Conversation Part 1

Everyday Conversation Part 2
Student Ratings & Reviews
No Review Yet