English IEP P.5 2nd Semester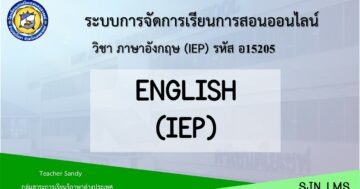 เกี่ยวกับคอร์ส
English Language 5                                                                         Department of Foreign Languages
Primary 5                                                                                          Time 40 Hours
Students are able to understand the orders, requests and simple instructions heard and
read; read aloud sentences, texts and short poems in accordance with the principles of reading:
specify and draw the symbols or signs corresponding to the meanings of sentences and short
texts heard and read; tell the main points and answer questions from listening stories, dialogues
and simple tales or short texts about ASEAN members; speak and write in an exchange in
interpersonal communication; use orders and requests for permission and give simple
instructions; speak and write to express needs, ask for help and agree and refuse to give help in
simple situations; speak and write to ask for and give data about themselves, their friends,
families, and matters around them; speak and write to express their own feelings about various
matters around them and various activities; give brief reasons with pictures, plans and charts to
show various data heard or read; use words, tone of voice and polite gestures in accordance
with social manners and culture of native speakers; answer questions and tell the importance of
festivals, important days, celebrations and simple lifestyles of native speakers and ASEAN
members; participate in language and cultural activities in accordance with their interests; tell
similarities and differences between pronunciation of various kinds of sentences, use of
punctuation marks and word order in accordance with structures of sentences in foreign
languages and Thai languages; tell the similarities and differences between the festivals and
cerebrations of native speakers; search for and collect the terms related to other learning areas
and present them through speaking and writing; use foreign language to communicate in various
situations in the classrooms and in school; and use foreign language to search for and collect
the data.
These can be done by using the language-teaching, group and thinking processes in
pronouncing, listening, speaking, reading and writing.
These can be done to contribute to the student's knowledge, understanding; students can
communicate the lessons learned, attend the language and cultural activities, collect knowledge
and learn from English.
Indicators
F1.1      Gr5/1      Gr5/2      Gr5/3      Gr5/4
F1.2     Gr5/1      Gr5/2      Gr5/3      Gr5/4      Gr5/5
F1.3      Gr5/1      Gr5/2      Gr5/3
F2.1      Gr5/1      Gr5/2      Gr5/3
F2.2      Gr5/1      Gr5/2
F3.1      Gr5/1
F4.1       Gr5/1
F4.2      Gr5/1
Total 20 indicators
Show More
What Will You Learn?
Students be able to write the vocabulary and sentences.

Students be able to communicate in English.
About the instructor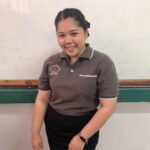 - Master of Education, Curriculum and Instruction, Phayao University, Thailand (2021) - Bachelor of Arts, English Major, Mae Fah Luang University, Thailand (2015) - Teacher of Intensive English Program (IEP) for 7 years - [Contact: Line -- sineyy]
Course Curriculum
Unit 4: My Dream Home
Everyday Conversation (4A – 4E)

Have Fun with Words

Listening is Very Easy

Everyday Conversation (4F – 4J) / Useful Language for Speaking

Phonics is Fun

Reading Comprehension

Revision (Unit 4)
Unit 5: Hobbies
Everyday Conversation (5A – 5E)

Listening is Very Easy

Everyday Conversation (5F – 5J)

Have Fun with Words / Useful Language for Speaking

Phonics is Fun

Reading Comprehension

Revision (Unit 5)
Unit 6: Entertainment
Everyday Conversation (6A – 6E)

Listening is Very Easy

Review and Revise

Expand your Vocabulary

Reading Comprehension

Useful Language for Speaking

Phonics is Fun

Revision Unit 6
Student Ratings & Reviews
No Review Yet