English IEP อ.11201 Primary 1 Second Semester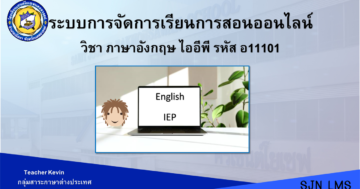 เกี่ยวกับคอร์ส
Students are able to act in compliance with simple orders heard; specify the alphabet and
sounds; pronounce and spell simple words in accordance with the principles of reading; choose
the pictures corresponding to the meanings of words; answer the questions from listening to
matters around them; speak in an exchange with short and simple words In interpersonal
communication by following the models heard; use simple orders by following the models heard;
express their own simple needs by following the models heard; speak to ask for and give simple
data about themselves by following the models heard; speak to give data about themselves and
matters around them; speak and make accompanying gestures in accordance with the cultures
of the native speakers; tell the names and vocabulary related to important festivals of the native
speakers; choose the picture that match with the meaning of words related to the colors of the
national flag of ASEAN members; participate in language and cultural activities appropriate to
their age levels; specify the alphabet and sounds of the alphabet of foreign languages and Thai
language; tell the terms related to other learning area; listen and speak simple situations in the
classroom; use foreign language to collect relevant terms around them.
These can be done by using the process of listening, watching, speaking, reading and
writing; performing, identifying, selecting, telling and collecting.
These can be done to contribute to the student's knowledge, understanding, and benefits
for the further education and daily life; students are keen on studying, determined, honest,
disciplined and public-spirited.
Show More
What Will You Learn?
Students are able to communicate basic English conversations.

Students are able to spell and read basic English vocabularies.
About the instructor
Course Curriculum
Unit 4 Food
Test: Everday Conversation

Food: Everyday Conversation

Form Words to Sentences

Food: Everyday Conversation 02

Food: Phonics and Reading
Unit 6 My House
Everyday Converation

Everyday Converation 2

Reading
Student Ratings & Reviews
No Review Yet