English for Communication E22204 S.1 First Semester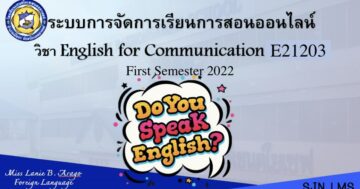 เกี่ยวกับคอร์ส
Supplemental Subject Description
Foreign Language Secondary Level Grade 7
Code E222004 Supplemental English Second Semester 20 hours
Percentile of Score: Final = 70:30 Total of units 1.0
Through this course, the students will learn the different skills which are needed in learning a foreign language. To survive intellectually in today's world, you need a wide vocabulary.
Specifying the topic and main idea and answer the questions from listening to and reading dialogues, tales, and short stories. Conversing to exchange data about themselves, various activities and situations in daily life. Speaking and writing to describe themselves, their daily routines, experiences and the environment around them. Searching for, collecting and summarizing the data / facts related to other learning areas from learning sources, and present them through speaking / writing. Using the language for communication in real situations in the classroom and in school. using foreign languages ​​​​in conducting research for knowledge / various data from the media and different learning sources for further education and livelihood.
Show More
What Will You Learn?
The students can speak and write to describe things around them.
About the instructor
Student Ratings & Reviews
No Review Yet