ภาษาอังกฤษเพื่อการเขียนเชิงธุรกิจ 2 อ31212 ม.4 ภาคเรียนที่ 2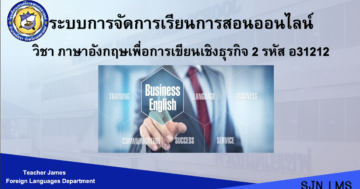 เกี่ยวกับคอร์ส
In this course, students will be exposed to significant structures of English language with emphasis on written genre at the intermediate level to gain an insight into the relationship of the elements within the sentence structure and those between sentences, i.e., basic grammar and specific terms of writing. Besides, students will get to know the basic structure in terms of writing and will be able to write the basic paragraph at least 100-120 words regarding business and beyond.
What Will You Learn?
Students who take this course will exposed to the following aspects:

To enhance students' knowledge of writing aspects.

To practice students' knowledge of grammatical points.

To prepare students' for analyzing and synthesizing both particular constructions and sentences of the same level of difficulty.
About the instructor
Course Curriculum
Introduction to writing for business in English semester 2
Filling out an application form
Filling out an application form week 3
Getting ready for the job interview
Getting ready for the job interview
Paragraph Structure
Paragraph Structure (Overall)
The Components of Topic Sentence
The Components of Topic Sentence
Student Ratings & Reviews
No Review Yet